TAKABE Makiko, Chief Judge of the IP High Court
Career summary
Appointed as a legal apprentice (33th term)

Assistant Judge, Toyama District Court

Assistant Judge, Tokyo District Court

Assistant Judge, Chiba District/Family Court, Matsudo Branch

Assistant Judge, Takamatsu District/Family Court

Judge, Takamatsu District/Family Court

Judge, Tokyo District Court (Intellectual Property Division)

Judicial Research Official, Supreme Court

Presiding Judge, Tokyo District Court (Intellectual Property Division until March 2007)

Judge, Intellectual Property High Court

Chief of Branch, Yokohama District/Family Court, Kawasaki Branch

Chief Judge, Fukui District/Family Court

Presiding Judge, Intellectual Property High Court

Chief Judge, Intellectual Property High Court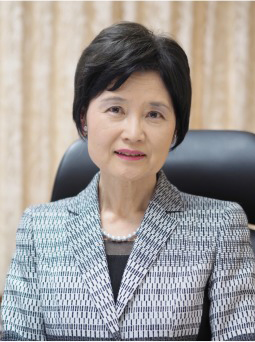 The Intellectual Property High Court was established in 2005 as a high court specializing in IP-related litigations.
IP-related litigations have become increasingly complex and difficult with the rapid development of technology. In view of this, the Court will strive to resolve individual cases appropriately and expeditiously by utilizing expert knowledge and render judgments which are convincing for the parties of the case and which serve as guidelines for corporate activities.
In addition, the number of cross-border IP-related litigations is increasing due to the globalization of business activities. In line with this trend, the number of overseas visitors to the IP High Court is increasing every year, totaling more than 3,000 since the establishment of the Court, and we have succeeded in boosting active international exchanges. Following the first international symposium held by the Court in 2017, we organized an international symposium also in 2018 and 2019, to which we invited judges and lawyers from overseas and conducted mock trials and panel discussions. We are scheduled to hold the Judicial Symposium on Intellectual Property/Tokyo 2020 in October 2020. Through the symposium, we intend to raise the profile of the IP High Court of Japan overseas. We also desire to utilize the result of the symposium for improving judicial practices and operations in Japan.
The IP High Court will make efforts to transmit further information by publishing judgements and releasing the guidelines for proceedings on its website with a view to contributing to the operation of IP-related litigations.
In order to respond to changes in social conditions and to satisfy the needs of a new era, we will devote full attention to further enhancing the quality of proceedings. Furthermore, we are determined to be a court that is trusted both in Japan and in the international community as well.
Your continued support will be greatly appreciated.