Technical Advisors in Intellectual Property Lawsuits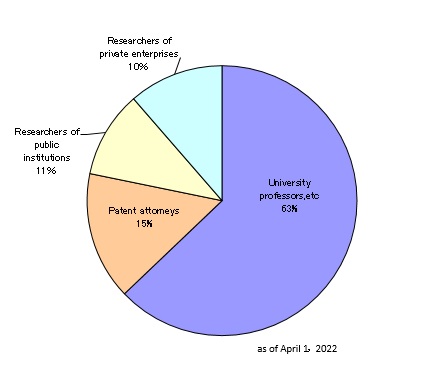 Flow of court proceedings
 Court procedure starts with a filing of an action to the court. The parties present their arguments before judges, and through proceedings, factual and legal issues are clarified. Relevant evidence is examined, and oral argument is concluded when judges think that the case is ready for determining the merit. Finally, the decision is rendered. In intellectual property lawsuits, there are two types of litigation; civil litigation (infringement litigation) so as to determine the rights and obligations of parties, and administrative lawsuits seeking revocation of the board decisions of the Patent Office.
 In addition to final judgment, a case is terminated by settlement reached between the parties, and withdrawal of a lawsuit is another way of termination.

Clarification of issues and evidence
 This proceeding is to identify the issues by hearing arguments of both parties and to determine whether evidence submitted by the parties is relevant and necessary to resolve the dispute. Judges and parties also use this proceeding to discuss how to proceed with the case. This proceeding may be conducted in a courtroom, but usually in a room other than a courtroom (such as a conference room).
In some intellectual property cases, "explanatory session" may be held during this proceeding.
Examination of evidence
 Through the examination of documents, witnesses, parties themselves, expert witnesses and objects for inspection, courts are given enough materials to determine the merit. In patent lawsuits, examination of witnesses is relatively rare.
Settlement
 While the case is pending before a court, the parties may compromise to solve their dispute through negotiations, thereby terminating the lawsuit.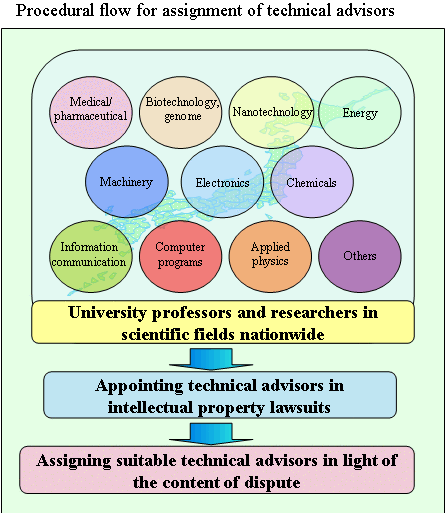 Comparison among technical advisor, expert witness, and judicial research official

| | Technical advisor | Expert witness | Judicial research official |
| --- | --- | --- | --- |
| Status | Part-time court official | not a court official | Full-time court official |
| Term of office | Two years | No term | No statutory term in general |
| Remuneration | Allowance paid for each case | Fee for an expert opinion | Salary paid for full-time official |
| Possibility to be questioned by the parties | Not expected to be questioned | May be questioned on the expert opinion | Not expected to be questioned |
| Nature of explanation or opinion | Provide easy-to-understand explanations on scientific matters as the court's adviser. The explanation may not be adopted as evidence. | Provide expert opinion on specific matters as requested by the court. The opinion may be adopted as evidence and relied on in the judgment. | Carry out research on necessary matters as ordered by the court and report the research results. The research results may not be adopted as evidence. |
Photo 1: Explanatory session conducted on the date for oral argument.
Photo 2: Attorneys for the plaintiff making a presentation.
Photo 3: Attorneys for the defendant making a presentation.